Projects of the Mohammed VI Foundation of African Oulema
The Mohammed VI Foundation of African Oulema ended Sunday 25 Safar 1440 (November 04th, 2018) the second ordinary session of its Higher Council in Fez by ratifying a number of projects prepared by the four committees of the Foundation. These projects comprise increasing the African outreach of the Foundation, spreading the tolerant precepts of Islam and combating extremism and fanaticism.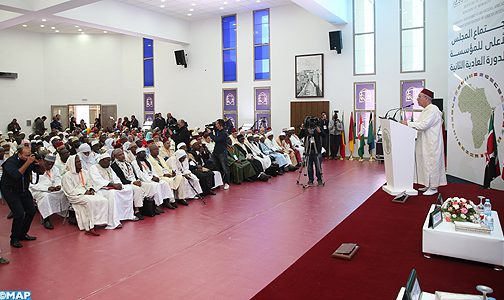 The meeting of the Higher Council was held in presence of more than 350 members of the sections of the Foundation associated with 32 countries. According to the closing statement that was read at the end of the session held from 3 to November 4, 2018, with the high approval of SM the King Mohammed VI, President of the Foundation, the Higher Council has ratified the technical and financial foundation reports, the rules of procedure and approved the plan of action of the Foundation for the year 2019.
Implementing a training program for morchidines and morchidates and activating coordination in traditional education
The Higher Council emphasized the need to work for the establishment of a training program for the benefit of the imams morchidines and morchidates belonging to the different sections of the Foundation in order to unify the course of their training using the shared constants of religion while taking into account the cultural and spiritual peculiarities of each country.
Another important recommendation adopted is the strengthening of the process of cooperation and coordination of the Kingdom of Morocco in sharing its experience of management of religious education with the countries who wish to draw on the Moroccan experience in this field.
Building an African approach to combat illiteracy and creating a website and a periodical magazine
The Higher Council also urged to set up a global vision of the African methodology adopted to combat illiteracy while taking into account local expectations and the cultural and linguistic features of each country.
The Higher Council have also adopted some projects concerning the creation of its Website to consolidate communication, articles publication, research and exchange of experiences as well as the publication of a periodical magazine on the Foundation's activities and organization of an annual competition of memorization and recitation of the Quran for African youth in the sacred month of Ramadan.
Finally, the members of the Mohammed VI Foundation of African Oulema have pleaded for the intake of more support and encouragement of the African woman Alima so that she could fill the roles with which she is vested in society and contribute to promote the values of tolerant Islam and participate in the development of her country in all areas.