HM the King Visits Antsirabe Mosque Which Sovereign Renamed 'Mohammed V Mosque'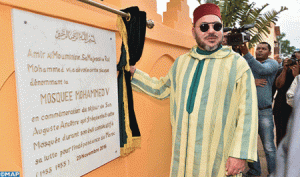 HM King Mohammed VI, Commander of the Faithful, accompanied by HH Prince Moulay Ismail, visited, on Wednesday, the "Antsirabe Mosque" which the sovereign re-named after his grandfather late king Mohammed V.
On this occasion, HM the King unveiled the commemorative plate re-naming the Antsirabe Mosque as "Mohammed V Mosque", which was renovated pursuant to the sovereign's instructions.
Afterwards, HM the King performed Tahiyatul Masjid prayer at the mosque and donated a consignment of the holy Quran to the president of the committee in charge of managing the Hanafi-Sunni mosque Issack Hassim.
The Quran copies, published by the Mohammed VI Foundation for Holy Quran Publication, will be distributed in the different mosques of Madagascar.
At the end of this visit, Abdelhak Lamrini, historiographer of the Kingdom, offered HM the King two pictures of late king Mohammed V giving the Friday lecture at the said mosque.
The second picture of this album brings together late king Mohammed V, who was leading the Friday prayer, and prince Moulay Hassan who was crown prince back then.
For his part, president of the mosque management committee offered HM the King an album of three pictures of the royal family inside the mosque.