Speech of Sidi Mohamed Rifki in the Conference of the "Common Religious Constants : The Foundations of the African Identity"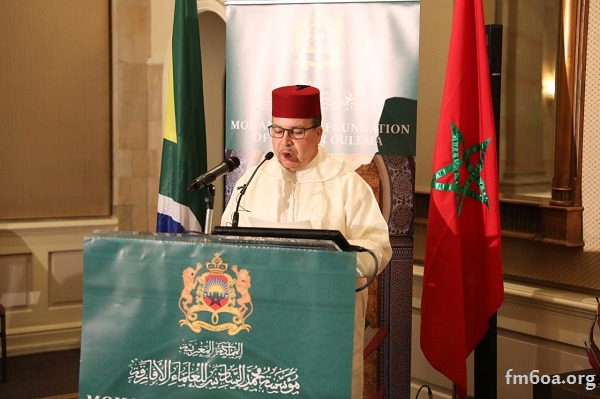 Your Eminence,
Ladies and Gentlemen,
 It gives me great pleasure to be here with you today, in my capacity as Secretary General of the Mohammed VI Foundation of African Oulema.
First of all, I should like to say how grateful I am to the organizers of this event for their warm welcome and for their contribution to the success of our meeting.
Ladies and Gentlemen,
There are many reasons to believe that the world we live in today is complex and hard to understand, given the ethnic, cultural and religious diversity characterizing it.
The diversity of our African communities is a source of invaluable enrichment which should be preserved at all costs.
However, to understand this diversity, we need to promote "dialogue" and "fraternal solidarity" as a way of life.
"Dialogue" and "fraternal solidarity" are, in fact, a state of mind.
It means to live and interact with others, to invent ways for understanding each other and for helping one another.
Inner dialogue and dialogue with others implyand endless process of inventing and re-inventing a language for that purpose.
This is the spiritual comportment of the faithful.
It is a spiritual journey that takes him:
From a state of introversion to a state of openness and solidarity;
From disparagement of others to respect for them;
From antipathy to compassion and fraternal bonds.
This journey is also about living in communion with those who have different beliefs, learning to get to know them and accept them as they see themselves; to accept them as if they were part of our own being.
The most important thing here is to learn to interact with one another, at all times, and to show solidarity towards each other.
To do so, it is imperative to :
To go beyond rhetoric, duplicity and inertia;
To strive continually to devise new means for dialogue that promotes solidarity
To be genuinely committed to sincerity in one's language.
Let us keep in mind that we live in "a community with a shared history", which has always attested to a keen sense of mutual enrichment, through centuries-old institutions that have guaranteed all spiritual aspects of human dignity.
The "Imarat al-Muminin" Commandership of the Faithful, incarnated by Amir al-Muminin, King Mohammed VI – may God assist him – illustrates this majestic Muslim symphony which upholds all facets of human dignity.
Twelve centuries of "Peaceful Islam", under Imarat al-Muminin, have marked mankind forever, namely in Africa.
Within the framework of Imarat al-Muminin, the Kingdom of Morocco and African sister nations have managed to promote spiritual peace, tolerance, dialogue and solidarity.
It was within that dynamic that King Mohammed VI, Amir al-MumininI,made the sovereign decision to create the Mohammed VI Foundation of African Oulema.
This Foundation is a reflection of deep-rooted commitment based on a rich cultural heritage which epitomizes the relationship between the Kingdom of Morocco and African sister nations.
This is a royal initiative aimed at ensuring the sustainability of our African Islamic identity, combining divine law and tangible human rights.
It is also a commitment reflecting a profound act of faith, in a society where spiritual peace, equanimity and serenity sakeena prevail and are deeply rooted in peoples' hearts.
Ladies and Gentlemen,
The reason we have fundamental values in common is because we are the product of the same "humanism" and the same spiritual heritage.
Our cultures and our civilizations spring from – and are nurtured by -the same revealed sources.
Making our common African origins and sources better known can only by conducive to recognizing and accepting each other, in order to help each other.
Our cultures share the same ethical fundamentals, which call for interacting with each other, exchanging and respecting one another and upholding solidarity.
Ladies and Gentlemen,
It should be pointed out that the Muslim faith is entirely based on the precepts of good morality, love, compassion, mercy, humility, dedication, tolerance and peace.
A "true believer", who abides by these moral precepts, is necessarily :
Refined,
Vigilant,
Tolerant,
Trustworthy, and
He will therefore give or be committed to :
Love for the "other"
Respect,
Solidarity,
Peace, and
Joy of life for those around him.
In the life of the believer, the eternal mercy and compassion of the Almighty are always self-evident.
Therefore, he is systematically expected to accept and take for granted the divine moral teachings characterizing:
Mercy,
Compassion,
Tolerance,
Solidarity
Ladies and gentlemen,
 Islam is a an enlightened faith.
A Muslim believer is, above all, a peaceful, tolerant person; a man of culture with an enlightened mind.
To conclude, it should be pointed out that the moral teachings of our faith offer Africa and humanity in general a way of life in which "Peace", "Solidarity" and "Serenity" prevail.
The Eternal Message which emerges is surely to make the "Faithful" "in peace with himself first"; a believer who contributes "Wisdom" and "Solidarity" to society, reflecting all the "Splendor of a Soul in Peace."
Thank you for listening.