Professor Aboubakar Doukouri : The importance of Hadith Sharif in the Knowledge of Precepts and Morals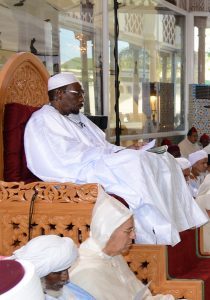 The lecture was given by Professor Boubacar Doukouri, Advisor to the President of the Republic of Burkina Faso for Islamic Affairs, under the theme: "The importance of Hadith Sharif in the knowledge of precepts and morals", according to the verse of the Holy Quran: "And accept whatever the Noble Messenger gives you; and refrain from whatever he forbids you."
The lecturer underlined that the chosen theme for the lecture is very important as some people are resorting to exploiting the hadiths (sayings) of the prophet to sow discord and political and doctrinal schisms, a danger that is getting worse because of the use of ICT, commending the existence, to face this instrumentalization, of Ulema tasked with the mission of defending these hadiths against any biased use to show the truth about them.
He explained the meaning of the word 'Hadith' which, according to Muslim theologians, encompasses all that has been reported by Prophet Sidna Mohammed like actions or speeches which are useful to explain the principles of the religion, adding that the Almighty has ordered his prophet to convey his message and spread its content, a fact that bestows on these hadiths an importance regarding the knowledge of precepts and morals. It is then not surprising that these hadiths are the second source of legislation in Islam after the Holy Quran whose teachings should be fully understood by believers to strengthen their faith. All the more so because these believers need a healthy knowledge of the import of the Holy Quran regarding worshipping, morals and the afterlife, he said.
Contrary to the Quran which was written down on paper to be transmitted to future generations of Muslims, the Hadiths were not and were reported by the companions of the prophet who were seeing to it to faithfully report the Messenger's acts and words. Some of them were sometimes obliged to give proofs to confirm the accuracy of what they say, said the lecturer, noting that most Sahihs (collection of hadiths) were not written until the beginning of the 3rd century of Hegira, except for the Muwata by the Imam Malik.
The lecturer concluded by expressing his gratitude to HM the King for his services in favor of the holy religion and Islamic Ummah, including the creation by the sovereign of a prize for "Ahl Al Hadith".
At the end of this lecture, HM the King was greeted by Aboubakr Dkouri, Advisor to the President of Burkina Faso for Islamic Affairs, Sayed Amine Ighmo, one of the Ulema of northern Mali, Abdesalam Abadi, one of the Ulema of the Hashemite Kingdom of Jordan and Aziz Hassou Fitch, President of the Machaikha Islamia in Croatia.
Afterwards, the minister of endowments and Islamic affairs Ahmed Toufiq gave to HM the King a CD and MP3 recording of the holy Quran according to  Warsh version from Nafi by Mohamed Sayed from the city of Casablanca.