HM the King, Performs Friday Prayer in Abuja's National Mosque
Abuja – HM King Mohammed VI, the Commander of the Faithful, accompanied by HH Prince Moulay Ismail, and the President of the Federal Republic of Nigeria, H.E. Muhammadu Buhari, performed the Friday prayer at the Abuja's National Mosque.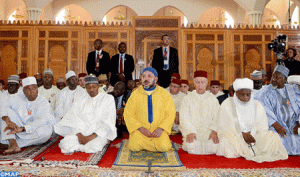 Following this prayer, HM the King granted the parties in charge of Nigeria's religious affairs management ten thousand copies of the Holy Quran, published by the Mohammed VI Foundation for Holy Quran Publication, to be distributed in the Nigerian mosques.
The Quran copies are offered in implementation of the royal instructions to meet the needs of mosques in west African countries for copies of the Holy Quran, according to the Warsh version from Nafi as adopted by Morocco and these countries.