HM the King, Commander of the Faithful, Performs Friday Prayer at Antananarivo Mosque in Madagascar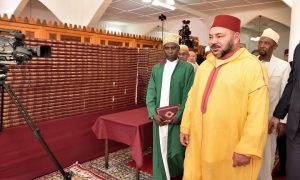 HM King Mohammed VI, commander of the faithful, accompanied by HH Prince Moulay Ismail, performed the Friday prayer at the Antananarivo Mosque in Madagascar.
At the end of the prayer, the Sovereign donated a consignment of the Holy Quran (Mushaf Al Mohammadi Acharif) to the parties in charge of religious affairs in Madagascar.
The Sovereign handed copies of the Holy Quran to the representative of Malagasy senators and to the vice-president of the Malagasy Muslim Association.
The Quran copies, published by the Mohammed VI Foundation for Holy Quran Publication, will be distributed in the different mosques of Madagascar.
Upon his arrival at the mosque, the Sovereign was greeted by the Minister of Habous and Islamic Affairs, HM the King's Chamberlain, representatives of senators, MPs, imams as well as several Malagasy officials.