GOODWILL MESSAGE BY HIS HIGHNESS ALH AMINU ADO BAYERO, EMIR OF KANO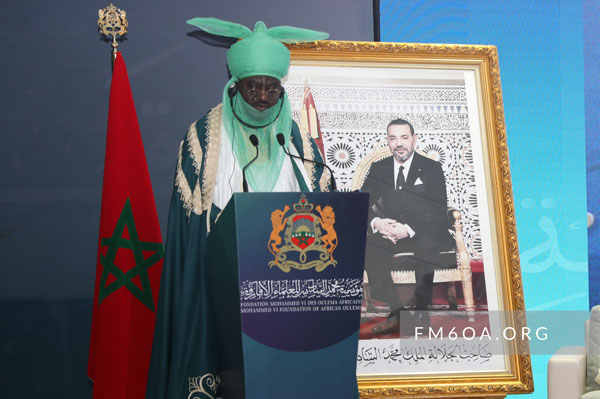 Goodwill Message by His Highness
Alh Aminu Ado Bayero, Emir Of Kano At an International Conference Organized By The Mohammed VI Foundation On- «Ulemas sayings On The Moroccan Religious Fundamentals»
Holding At Fes, Morocco On Saturday,
24 Th June, 2022
PRAYER
Courtesies/Salutations
Iam very honoured to be here today at this very important International conference. I believe it is by divine providence that Allah (SWT) in his wisdom made my maiden visit to this country to coincide with this importan conference.
With the burden of the spiritual and religioous responsibility of the 20 million muslim faithfuls in Kano, as their leader, Iam certain that even without this visit my attendance at this International Conference would have been most. appropriate. In my entourage, Iam accompanied by some members of my Cabinet, distinguished Businessmen and one of our most respected Islamic leaders, Sheikh Muhammad Nasir, Adam, who is an Imam in one of our major mosques, and also the Head of our respected Council of Imams for Jummuah Mosques, which has a membership of over three thousand Imams. In Kano, we also have another council called the Council of the Ulemas comprising of learned Islamic leaders representing various sects. These two organs are usually consulted for rulings on any particular issue of interest to the Umma. They always work harmoniously and speak with one voice on such matters. This, I believe is similar to the ultimate objectives of this conference therefore underscores the significance of our attendance at this August gathering.
I wish to specifically recognise and appreciate the immense and untiring contributions being made in the course of Islam by His Majesty, The King Muhammad VI. in the same manner and the immeasurable ways his forebeares and contributed to our great religion. May Allah reward all their efforts and for their legacies to continue to flourish to eternal. May their contributions also remain a source of reference and inspiration to other leaders and faithful, for the growth and sustainability of the Islamic religion, the teachings of the noble Quran and the Sunnah of our beloved Prophet Muhammad (S.A.W).
May I also expresse a profound admiration and recommendation to the Secretary General of the Mohammed VI Foundation and the entire membership of the Foundation for their thoughtfulness in organizing this Conference and for their selfless and whole hearted service to Islam. May ALLAH(S.W.T) Increase you in knouwledge and wisdom in the service of Islam.
I wish all the attendees well be happy and fruitful, with the hope that Islam and the entire Muslim Umma will be the major beneficiaries of the outcome of this conference.
May ALLAH (S.W.T) continue to protect his religion and unite us all as the Umma of Sayyidina Rasulullah. May peace be upon our most revered and loved prophet Muhammad Ibn Abdallah- (S.A.W)
Assalamu Alaikum Wa Rahamatullahi Taala Wa Barakatuhu.