Address of the Secretary General of the Mohammed VI Foundation of African Oulema during the symposium on "The Eternal Message of Religions" in Abidjan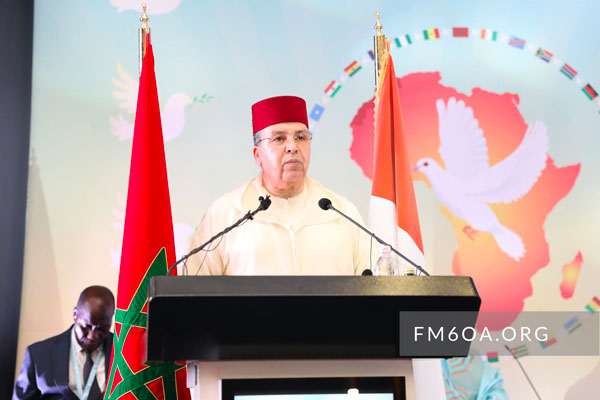 This address was delivered at the opening of the International Symposium on Inter-religious Dialogue organized by the Higher Council of Imams, Mosques and Islamic Affairs of Côte d'Ivoire (COSIM) and the Mohammed VI Foundation of African Oulema under the theme "The Eternal Message of Religions" on February 23, 24 and 25, 2022 in Abidjan
– Mr. VAGONDO DIOMANDE, Minister of Home Affairs and Security of the Republic of Côte d'Ivoire;
– Your Eminence CHEIKH OUSMANE DIAKITE, President of the Higher Council for Imams, Mosques, and Islamic Affairs (COSIM);
– Your Eminence CHEIKH MOSTAFA SONTA, President of the Ivorian section of the Mohammed VI Foundation of African Oulema;
– Your Eminence  Said Chebbar, Representative of the Higher Oulema Council of the Kingdom of Morocco;   
– His Excellency the Ambassador of His Majesty the King to Abidjan;
– Distinguished Oulema, Presidents of the sections of the Mohammed VI Foundation of African Oulema;
– Honorable religious scholars and leaders;
– Ladies and Gentlemen,
I am delighted to be here with you today, in my capacity as Secretary General of the Mohammed VI Foundation of African Oulema.
Allow me, first of all, to thank the official and local Ivorian authorities for their particularly warm welcome and the fraternal generosity extended to us all as their guests.
This fraternal gesture, which will remain forever engraved in our hearts, is hardly surprising. Indeed, Ivorian hospitality, just like the greatness of the people of this country, is legendary. In fact, that hospitality reflects a subtle, refined art of living.
Ladies and Gentlemen,
The Mohammed VI Foundation of African Oulema is bringing together African scholars in the framework of this international symposium, in response to the imperative need to carry the Word of God and give substance to the merciful virtues intended to ensure the happiness of all Africa.
Ladies and Gentlemen,
We all live in a young African Continent, full of promise, bounties, and hope. But it is also an Africa plagued by trauma, suffering and conflict.
The social sufferings within our African societies, which are growing by the day, are to be perceived, first and foremost, in connection with the vulnerability of the African individual.
To understand the reasons for this situation, we need to focus our reflection on African human weaknesses which are taking root, on a daily basis, in societies characterized by the absence of the Divine element in social life.
However sophisticated the different approaches to analyzing our African societies may be – and they are necessarily different from one another – it is a fact that we cannot understand them without envisioning the culture of dialogue and fraternal solidarity as a way of existing.
Dialogue and fraternal solidarity among all Africans are, above all, a state of mind.
It is a way of living by talking to one another, and by inventing ways to understand and help one another.
Therefore, this involves a fraternal language, to be invented and endlessly reinvented.
Ladies and Gentlemen,
To live in brotherhood with those who hold different beliefs involves a process that consists in getting to know them and to recognize them as they see themselves, and then to welcome them as an extension of ourselves.
The most important thing is that we should always learn to talk to each other and to show solidarity.
Let us not forget that we live in a community of African history, which has always been characterized by a never-ending process of cultural enrichment.
Suffice it to mention the example of 'Imaarat al -Mumineen" (or the "Commandership of the Faithful"), which is symbolized by "Amir Al Mumineen" Mohammed VI, may God protect him. It sums up a majestic Muslim symphony, which, needless to say, is invariably open to other beliefs and faiths.
Twelve centuries of an "African Islam grounded in Peace" have left their mark on all Africans and the entire mankind.
Within the embrace of "Imaarat al-Mumineen", the Kingdom of Morocco and its African sister nations, including, of course, the sister nation of Côte d'Ivoire, have managed to promote spiritual peace, tolerance, dialogue, and solidarity.
The "Commandership of the faithful" therefore constitutes one of the most emblematic characteristics of our African Muslim identity, which combines Divine Right with Tangible Human Rights.
It provides a guarantee to everyone to exercise his or her religious rights, to practice one's religious fervor in an African society characterized by Spiritual Peace, Quietness and Serenity – that tranquility which settles deep down in the hearts.
Ladies and Gentlemen,
It is essential for African Oulema to clearly identify priorities with regard to the objectives to be achieved and the challenges to be overcome. It is necessary to lay emphasis on one fact in particular, which is to promote Social Peace within African societies.
Let us recall, in this regard, the degraded state of affairs in many African regions, due to the recourse to violence and arms by misguided small groups in order to settle disputes and, impose, by force, their opinions and choices, which are often dogmatic and ideological.
This kind of situation generally leads to the following:
On the one hand, the weakening or disruption of central powers in certain African regions; and
On the other, the rise of criminal groups, which are devoid of any religious or political legitimacy; these groups claim for themselves the right to enact rules, attributing them to Islam, to apply concepts that they have taken out of context and disconnected from their initial purposes, and to use them, thus engaging in harmful actions for all segments of African society.
African societies are thus trapped by small groups that try to continue perpetrating their crimes in the name of Islam, by perfidiously invoking the Name of the Most High and the Prophet of Mercy, may Peace and Blessings by upon Him.
This is an intolerable situation, which stigmatizes and perverts the reputation of a religion.
Ladies and Gentlemen,
Faced with such serious a situation, African Oulema cannot remain on the sidelines and do nothing.
Given their religious duties and the responsibility of exegesis they are tasked with, African Oulema ought to coordinate their efforts in order to :
Firstly: re-establish, in Africa, the true image of a Tolerant and Peaceful Islam;
Secondly: always preserve Peace among Africans themselves, within their societies;
Thirdly: protect African societies, by warning them against the threats that these crimes, perpetrated under the guise of religion, pose to the stability of their societies.
Ladies and Gentlemen,
Today's symposium should stand as a symbolic recognition of our forebears, the African Oulema, who managed, thanks to their genius, to leave an indelible mark on a whole life full of wisdom.
I know that we all feel a great deal of respect and gratitude towards these wise figures.
In this regard, allow me to pay a warm tribute to the memory of our two departed scholars, May Allah's Peace and Mercy be upon them: CHEICK AIMA BOIKARY FOFANA and CHEICK AIMA MAMADOU TRAORE, who, both of them, were Presidents of the Higher Islamic Council of Mosques and Islamic Affairs (COSIM) and Presidents of the Ivorian section of the Mohammed VI Foundation of African Oulema.
Surely, they are no longer with us, but they have left us with a Symbolic Heritage which   elegantly sums up the fundamental values of a faith characterized by the humanism underpinning the African Spiritual Legacy.
A Legacy common to all Ivorians and all Africans, whatever their religious affiliation.
It is a Legacy which reaffirms the virtues of dialogue, solidarity and, above all, work in friendship with believers in other faiths. It is an action designed to make sure the scourges of hatred and suffering do not dash hopes and expectations in the Future – an action designed to ensure our children and the coming generations can live in a safe world – a world of peace and brotherhood.
The various historical insights they have left us with should induce today's Oulema to embody a flawless societal model, and to be, first and foremost, Men of Peace, at everyone's service.
They should be Oulema inspired by the Light of Faith, who tackle the obscure effects our African societies are suffering from.
Oulema who know Glory, but who remain Humble in their daily life and are close to the people, especially the most vulnerable segments of society.
Oulema who avoid extreme positions, and who always remain at the service of the weakest.
Oulema who are the very reflection of Pacifism: the more they act for the good of society and of others, the more Wisdom they gain; and the more they give to others, the more Respect they earn.
Finally, Oulema who know how to listen to the sufferings of society and who bring it Enlightened Wisdom.
Let us not forget that the world around us is not inhabited by a set of Figures, but rather by a set of Unique Presences that are God's Creation.
Each Presence in society is a reflection of a Finite existence that never ends propagating the Breath of a Complete Fullness.
Ladies and Gentlemen,
Let us pray that Almighty God grant every success to our Symposium.
We also pray that Almighty God reward our Oulema, our scholars and our wise African men and women, that He guide their steps and help them walk in the footsteps of the Prophet – may Peace and Blessings be upon Him.
We also implore Almighty God to grant His Majesty King Mohammed VI, the Commander of the Faithful, may God assist him, and his brother, His Excellency the President of the Republic, Alassane OUATTARA, a long, healthy life.
May God protect the two Great Heads of State, Sources of Compassion and Benevolence for the two brotherly peoples of Côte d'Ivoire and Morocco.
Ladies and Gentlemen,
In conclusion, the Eternal Message of Religions, advocated by the Mohammed VI Foundation of African Oulema, is to make sure, above all, that African believers are at ease with themselves, and that they bring to African societies a Wisdom, a Blessing and a Solidarity that reflect the infinite Splendor of a Soul in Peace.
As a famous Ivorian proverb puts it:
"Peace is not an empty word but a form of behavior".
Thank you for your kind attention.