Abidjan – International symposium on inter-religious dialogue under the theme: "The Eternal Message of Religions"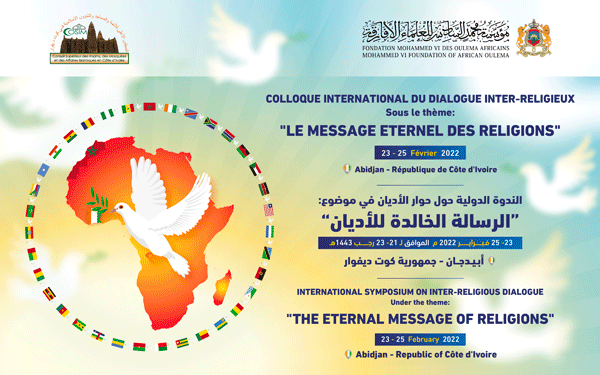 The Higher Council of Imams, Mosques and Islamic Affairs of Côte d'Ivoire (COSIM) and the Mohammed VI Foundation of African Oulema announce the holding of an international symposium on inter-religious dialogue, on 23-24-25 February 2022, in Abidjan, under the theme: "The Eternal Message of Religions"
The objectives of this symposium are the following:
Sustainability of peace in Africa and Côte d'Ivoire through inter-religious dialogue.
Continuity of the eternal message of religions on peace in the world.
Opening of paths for exchange and dialogue between Muslims and Christians in Côte d'Ivoire and in Africa.
Adoption of the Abidjan peace declaration between the various religious and social actors.
The symposium's objectives will be the subject of several interventions within the following five themes:

– 1st theme: The family and the school

– 2nd theme:  The Ivorian and African civil society

– 3rd theme: Training and sensitization of religious leaders

– 4th theme: Religions, communication and preaching

– 5th theme: Public authorities and religious stakeholders in facing up to the phenomenon of radicalization and violent religious extremism.

This international symposium will bring together Muslim and Christian researchers and experts from the African continent. More than 600 participants will be present at this event including Ivorian national and international personalities, in particular the presidents and members of the 34 sections of the Mohammed VI Foundation of African Oulema.

This cultural event goes with the African vision of the Commander of the Faithful, His Majesty King Mohammed VI, may God glorify Him, President of the Mohammed VI Foundation of African Oulema, who has always encouraged dialogue and development initiatives in Africa.

On the sidelines of the symposium, the Foundation will organize an official tribute to the late Cheikhoul Aïma Boikary Fofana and the late Cheikhoul Aïma Mamadou Traoré, former presidents of the Superior Council of Imams, Mosques and Islamic Affairs and the Ivorian section of the Foundation, as well as a tribute to Ivorian imams from COSIM.

As for the Tidjani Tariqa in Abidjan, it will organize the second edition of the International Wadifa on 25-26-27 February 2022, at the invitation of Cheikh Moustapha Sonta, Caliph General of the Tidjaniya in Côte d'Ivoire, and under the spiritual authority of Sidi Mohamed El Kebir Tidjani, Caliph General of the Tidjani Tariqa and the family of Sidi Cheikh Ahmed Tidjani Chérif in Morocco, in the presence of the great Tidjani Caliphs of Senegal, Guinea, Mali, Niger, Burkina, Nigeria, Mauritania, Sudan, Chad , Guinea Bissau, Ghana, Benin, Togo, and Rwanda.

The end of this ceremony will be marked by prayers and blessings for His Majesty King Mohammed VI, may God assist him, for Africa and for the entire Islamic Umma.

Keywords :