Imarat Al Mouminine and its Religious and Secular Presence in the Moroccan Model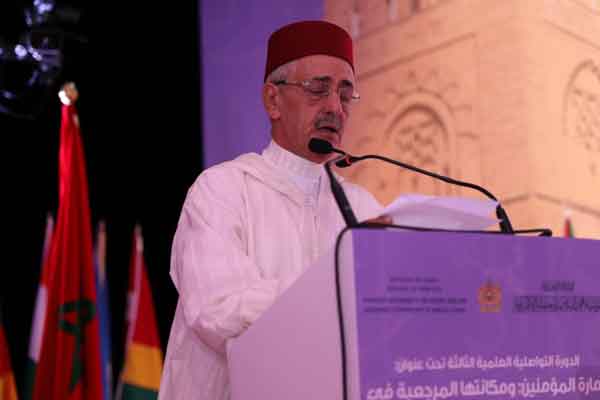 Dr. Abdelhamid Alami, professor of theology at Al Quaraouiyine University said,  in his speech on the last day of the third scientific communication session of the Mohammed VI Foundation of African Oulema, on the theme: "The Commandery of the Faithful and its place as a Referential in the preservation of common religious constants" , that the west Islamic countries admitted their religion with satisfaction and acceptance, including God's forgiveness, Prophet's love and its descendants' admiration. For centuries, a number of constants have served in the diffusion of the right religions in this part of the Muslim world, to become a guiding light and a model to follow.
Dr. Alami stressed that Imarat Al Mouminine has a religious and secular presence in the Moroccan model, since it is impossible to talk about the religious separation from the secular in the Moroccan model, andstated the tasks of Amir Al Mouminine in managing the Islamic affairs in order to achieve the interests of Muslims and ensure their dignity and stability.