The Importance of Digital Communication in the Preservation of Religious Constants and Strengthening the Ties Between the Members of the Institution and its Sections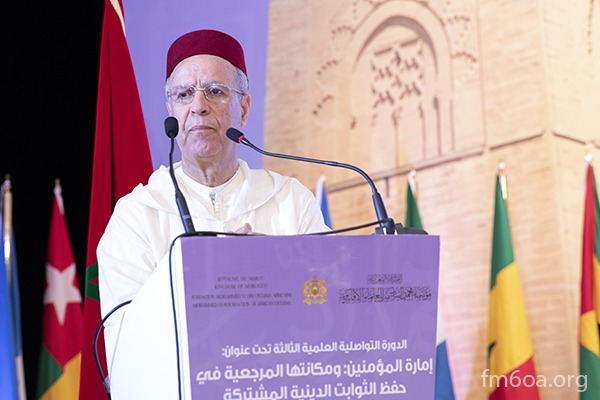 During the third scientific communication session organized by the Mohammed VI Foundation of African Oulema under the title: The Commandery of the faithful and its place as a referential in the preservation of common religious constants, Mr Ahmed Toufiq, minister of Habous and Islamic Affairs and Vice President of the Mohammed VI of African Oulema, stated that the main objective of launching the website and social networks of the Foundation is Adhering to the truth and patience.
According to the speech of HM the King, Amir Al Mouminine during his speech in the inauguration of the higher council of the Mohammed VI Foundation of African Oulema, Mr Toufiq reminded of the objectives and the identity of the Foundation as a framework for cooperation between Oulema for the protection of religion.
The Vice President of the Foundation stressed that patience and wisdom are the keys to face falsehood, and he added that Muslims should follow the Oulema model of Islam.
Furthermore, Mr Ahmed Toufiq reminded on the speech of HM the King during the creation of the Mohammed VI Foundation of African Oulema, and mentioned the work process standards of the Foundation, the most prominent points are:
The Foundation is not just an institution, but it is a framework of cooperation and collaboration for the best of African Oulema.
The Foundation is not an associative organization, but it is an official institution that does not praise anyone, does not compete with any entity, and cooperates with each entity with common goals.
The African Oulema are called upon to protect themselves, their families and their religion in their human and charitable values.
The preservation of religion is the common point of Africans, and Muslims are required to protect Islam for the sake of good survival and peace.
In Imarat Al Mouminine, the political aspect is not intended. Each country has its own constitution, but the African Oulema adhere to this concept. Imarat Al mouminine aims to protect religion and its fundamentals, which is the same duty of the great Imamate.
The five religious approach that are required to be preserved: the soul, the reference mind, which is well-known, and money to drive sedition and bring stability, and human dignity, the reference of Imarat Al Moumine is required to keep these approaches with the Oulema's agreement.
The website of the Mohammed VI Foundation of African Oulema and the African Oulema's Magazine Launch in collaboration with the Oulema members of the Foundation in order to achieve its objectives.