Towards Fundamental Milestones to Revive the African Islamic Heritage Text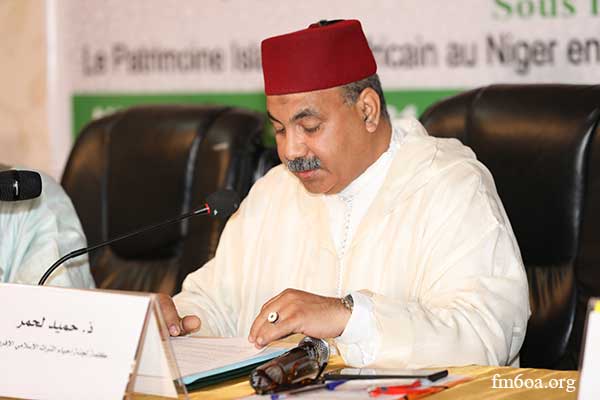 During the conference organized by the Nigerien section of the Mohammed VI Foundation of African Oulema on the theme of " African Islamic heritage in Niger Between the Past, Present and Future Prospects", on 17 and 18 Dhu Al Qi'ada 1440 H, corresponding to 20 and 21 July 2019,  in Niamey. Dr. Hamid Lahmer, Professor of Higher Education at Sidi Mohamed ibn Abdellah University in Fez, highlighted the fundamental Milestones to revive the African Islamic heritage text.
He affirmed that Islam of the west region knows a rich and varied Islamic heritage that extends to all aspects of life and called on the importance of its preservation and protection.
Mr. Lahmer added that this heritage reflects the Islamic culture of African societies and provides clear evidence of the strong relations that bind the communities of the region. In this regard, he presented a series of proposals to preserve the African Islamic heritage, in which he called on graduate students, researches and specialized institutions to unite efforts and create effective means to carry out this work.
To read the original text of the intervention made by Dr. Hamid Lahmar, Click here.