The Mohammed VI Institute for the Training of Imams, Morchidines and Morchidates (Religious Preachers)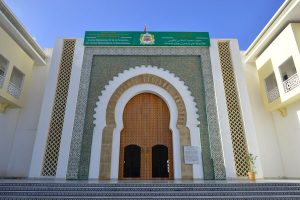 In the past, the people who were qualified for the post of imam was anyone who memorized the Holy Qur'an and had his share of the sciences of religion, least of which was knowledge of how to pray.
In this age, the demand for imams has increased as did the demand for mosques in cities and towns. People's expectations of an imam who is well versed in Sharia surged, which would enable him to answer the questions of people whose level of awareness and education has generally risen. In response to this request, the Commander of the Faithful ordered the training of young imams and male and female clergy.
The training, which began with 150 young men and women a year, lasts twelve months; the young men who undergo this training are those who have fully memorized the Qur'an and who hold a university degree with distinction, and the young women who have memorized the Qur'an and who meet the same scientific conditions as their male counterparts.
Training Launch:
The training began in 2004 at the headquarters of the local religious council in Rabat. In 2014, a Sharifian Dhahir was issued which marked the creation of the Mohammed VI Institute for the Training of Imams, Morchidines and Morchidates. The first part of the current institute was built and inaugurated by the Commander of the Faithful in March 2015.
After the inauguration, the Commander of the Faithful ordered that the number of female preachers joining the Institute be increased from 50 to 100 every year.
The male and female students receive a monthly grant of MAD 2,000. Moroccan graduates receive a monthly salary equal to that received by the assistant administrator in the public administration, in addition to Healthcare coverage and the right to promotion.
Each graduate imam is appointed in an administrative region in which there is a local religious council  and a representative of the Ministry of Religious Endowments and Islamic Affairs, thus ensuring full coverage of the national territory, the same applies to female morchidates.
Their Tasks:
The imam's task is to serve the imams working in mosques and to educate citizens in all religious requirements.
The task of the morchidates is to provide similar supervision to women especially, but the female preachers do not lead prayers.
The supervision required from imams and from the male and female preachers is exercised according to a program determined by the local religious council or according to the procedures requested by the local representative of the ministry.
The Commander of the Faithful ordered the Institute to train foreign students in response to the request of countries and bodies from Africa, Europe and Asia.
The duration of the would-be imams' training lasts between six months and three years.
Training Program:
It  includes practical and theoretical Sharia subjects, and a number of humanistic disciplines that the imam needs to understand the context in which he works. For foreign students, the program also includes a professional training that enables the imam to earn his living in his country outside the times of religious supervision, by learning a trade, especially in cases where he is not sponsored by the community or the state.

In addition to classrooms and vocational training workshops, the institute building also includes lodgings, restaurants, reading spaces and sports facilities.

The number of Moroccan graduates from the Institute has now reached 2,100 imams and 900 morchidates, and the number of foreign graduates is 1,534. The Institute currently accommodates  1,352 students.

The foreign student imams hail from such countries as Senegal, Mali, Guinea, Cote d'Ivoire, Nigeria, Gabon, Chad and France; the Institute will soon receive students from Niger and Thailand.

Keywords :