Professor Younes Toure: Place of the Immaculate Sunna of the Prophet in Islamic law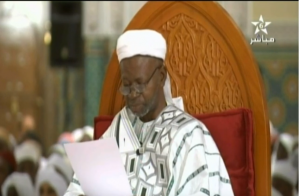 The lecture was given by Younes Toure, university professor and member of the Council of Imams of Côte d'Ivoire, under the theme "Place of the Immaculate sunna of the prophet in Islamic law", drawing on the verse: "Allah has revealed to you the Book and wisdom and has taught you that which you did not know. And ever has the favor of Allah upon you been great". (Surat An-Nisaa, verse 113).
There is a complementary relationship between the Sunnah and the Holy Quran from the perspective of the Sharia, as the Sunnah explains the injunctions and recommendations in the holy book, Toura said in his lecture.
The lecturer stressed that the Almighty has guaranteed the preservation of both the Quran and the Sunnah, adding that the companions of the Prophet took upon themselves the responsibility to preserve and perpetuate all the words and deeds of the prophet and all the details of His life in times of peace and war and they transmitted and bequeathed to their offspring.
This mission was carried out later by prominent Ulemas (scholars) in the 2nd century of the Hegira, who have made commendable efforts to ensure the veracity of what is attributed to the prophet to build a full scientific work.
Addressing the divergences among theologians, the lecturer explained that the birth of Fiqh rites date back to the era of Prophet Sidna Mohammed who devoted and admitted discrepancies between His companions in accordance with the human nature and because men differ on their level of understanding.
The Fiqh rites, he concluded, are not a heresy since their foundations have the consent of the messenger of God and the elites of the Islamic Ummah have perpetuated them.
On the other hand, the lecturer expressed his thanks to HM King Mohammed VI, Commander of the Faithful, for His blessed efforts to strengthen the ideals of peace and tolerance in the world, through the call for moderate Islam at a time when humanity suffers from extremism and conflicts.
In this regard, he hailed the unique and sound initiatives of the Sovereign in the field of religion, citing in this regard the creation of the Mohammed VI Institute for the Training of Imams, Morchidines and Morchidates (religious preachers) and the Mohammed VI Foundation for African Oulema.