Overview of Imarat Al Mouminine Throughout the History of Morocco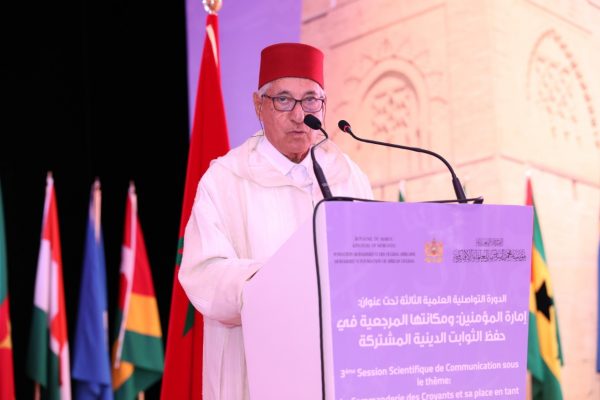 Professor Abdelhak Lamrini, the historian of the Kingdom of Morocco, stated that the Commandery of the faithful has been a particular quality of the country throughout history, following the example of the Companions after the death of the Prophet, peace and blessings of Allah be upon him. This went through his intervention on the second day of the scientific communication session organized by the Mohammed VI Foundation of African Oulema under the title: The Commandery of the faithful and its place as a referential in the preservation  of common religious constants
He pointed out that the sultans of Morocco took the title of Amir Al Mouminine since the time of the Almoravid dynasty and mentioned that all the international messages that were sent to the sultans of Morocco were beginning by "to Amir Al Mouminine". Mr Lamrini added that that the pillar of Imarat Al Moumimine is allegiance, which is a contract between Amir Al Mouminine and the Ummah.
Moreover, the historian of the Kingdom of Morocco added that the Kings of the Alawite Dynasty have always considered "Imarat Al Mouminine" as title of Honor and commitment, which they carried on while fulfilling the responsibilities on preserving religion and defending the sanctities of Islam and Muslims in Morocco and Andalusia. Also, he reminded about the support of the late Mohammed V for Al Qaraouiyine and Ibn Youssef Universities, and about the preaches of the late Hassan II which were calling for the diffusion of the right Islam and its values of peace and tolerance.
Professor Abdelhak Lamrini concluded his speech by reporting that Moroccan constitutions were always stipulating that the King of the country is the Commander of the Faithful and the Religion protector – Amir Al Mouminine. This is what His Majesty, King Mohammed VI, has always been committed to for the preservation of the mission of his ancestors by promoting the moderate Islam in Africa.