HM the King Ensures Preservation of Religion According to Approach That Meets Needs of The Faithful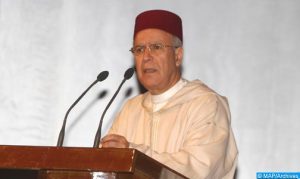 HM King Mohammed VI, Commander of the Faithful, ensures the preservation of the Umma's religion by adopting an approach that provides religious guidance to meet the needs of the faithful, said Ahmed Toufiq, Minister of Endowments and Islamic Affairs.
In the annual report on the activities of the Higher Council and Local Councils of Ulema and actions undertaken for the promotion of religious affairs, which he presented Saturday evening to HM the King, during the religious ceremony chaired by the Sovereign in commemoration of Aid Al Mawlid Annabawi Asharif, the Minister stressed that the Sovereign has undertaken many actions to perpetuate the traditions of the Ummah, through the promotion of the Holy Quran and the preservation of the tradition of Prophet Mohammed (PBUH).
In this context, Toufiq assured that half a million men and women are learning the Quran in 14,000 Koranic schools, noting that 1,000,000 copies of the Quran were published.
The Minister added that the copy of "Mouataa Al Imam Malik" that HM the King had ordered the Higher Council of Ulema to carry out in 2004 and which was presented to the Sovereign in 2013, was translated into English thanks to a collaboration between the Higher Council of Ulema and Al Akhawayne University.
Regarding religious employees, the minister underlined the graduation of the 14th group of the Mohammed VI Institute for Imams, Murshidins and Murshidates, noting that 1,070 students from nine foreign countries are studying at the Institute, which is now open to students from Niger, Thailand and Rwanda.
Regarding the promotion of the role of mosques, Toufiq noted that his department allocated 861 million dirhams for the construction of mosques and mobilized 300 million dirhams for the renovation of closed mosques, in addition to the restoration of 10 historical mosques and the financial support for several municipalities and associations for the construction of new mosques.
As for the traditional education, the minister said that his department promotes this type of education, citing as an example the publication of new educational programs. He recalled, on this occasion, that the program of Literacy in mosques benefited, for the past year, 300,000 people.