HM the King, Commander of the Faithful, Performs Friday Prayer at the Grand Mosque of Dakar-Senegal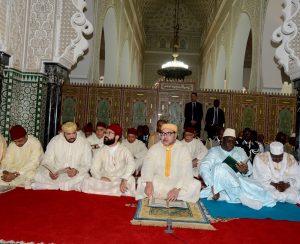 HM King Mohammed VI, Commander of the Faithful, donated 10,000 copies of the Holy Quran to parties in charge of religious affairs management in Senegal, following the Friday prayer which the Sovereign performed with Senegalese president Macky Sall in the Grand Mosque of Dakar.
These copies, issued by the Mohammed VI Foundation for Holy Quran Publishing, will be distributed in the different mosques of the Republic of Senegal.
This donation comes as part of the implementation of the royal instructions, to the said Foundation, on meeting the needs of western African countries for Quran copies according to the Warsh version from Nafi', chosen by the Kingdom and these countries.