HM the King, Commander of the Faithful, Chairs Seventh Ramadan Lecture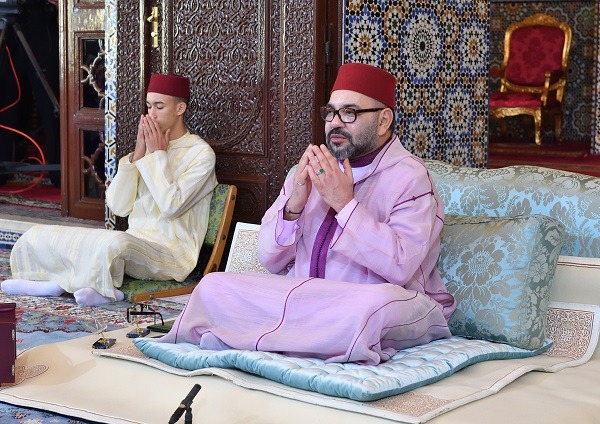 HM King Mohammed VI, Commander of the Faithful, accompanied by HRH Crown Prince Moulay El Hassan and HH Prince Moulay Ismail, chaired, Saturday at Rabat's Royal Palace, the seventh religious lecture of the holy month of Ramadan.
The lecture was delivered by professor Zoubida Hermas, member of the Local Ulema Council of Aid Sbaa-Hay Mohammadi, on the theme "Women's clothing in the Islamic and national dimensions", drawing on the Quranic verse: "O children of Adam, take your adornment at every masjid, and eat and drink, but be not excessive. Indeed, He likes not those who commit excess. Say, Who has forbidden the adornment of Allah which He has produced for His servants and the good [lawful] things of provision?". Say, "They are for those who believe during the worldly life [but] exclusively for them on the Day of Resurrection." Thus do We detail the verses for a people who know." (Sourate Al-A'raf)
At the beginning of the lecture, Professor Hermas noted that there several reasons to discuss the theme of women's clothing, including the emergence over the last years from outside of our society of new forms of women's clothing that were not known before in addition to other types of women's clothing from Europe in the twentieth century.
While some claim that some new clothing constitute the appropriate Islamic dress, these slogans are in fact reducing Islam in this external appearance, hence ignoring all the cultural momentum and cultural diversity achieved by Muslims in their rich history, the lecturer pointed out.
In this context, the woman finds herself as a victim, be she a schoolgirl, a wife or an active individual in life, as she becomes the victim of a man who forces her to wear a distinct clothing.
She stressed that this tends to restrict the dress of women in the form of a single and appointed clothing, far away from the purpose of the provisions of clothing in the Shari'aa.
The lecturer said the way in which Muslims should dress is driven out of decency, simple modesty and the desire to not draw individual attention in any way.
In the Prophet's era, the Bedouin dress did not change because it was simple and functional and the clothes were common between men and women, she said, adding that the difference was about how to wear it, with the exception of women with headscarves, ornaments and adornments.
In all eras of Islam, women's clothing varied according to cultural heritage, geographic environment, Bedouin or urban lifestyle and social class, she explained.
At the end of the lecture, HM the King was greeted by several foreign religious figures.