HM the King, Commander of the Faithful, Chairs Fourth Religious Lecture of Ramadan
HM King Mohammed VI, Commander of the Faithful, accompanied by HRH Crown Prince Moulay El Hassan, HRH Prince Moulay Rachid and HH Prince Moulay Ismail, chaired, on Thursday at Casablanca royal palace, the fourth religious lecture of the holy month of Ramadan.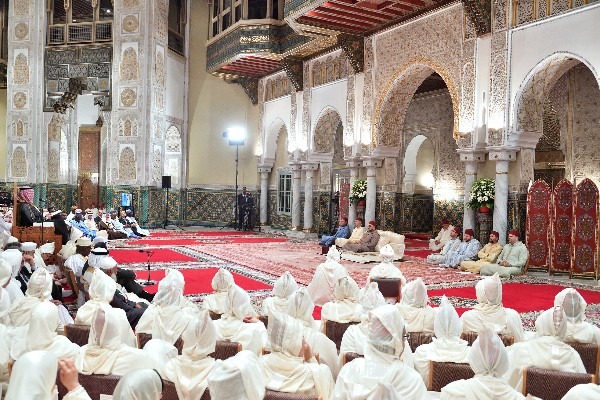 The lecture was delivered by Saad Ben Thaql Al-Ajmi, professor at the Kuwait Public Authority for Education, under the theme: "referring to pious ancestors thinking", drawing on Quranic verse: "And if you dispute over anything, refer it to God and the Messenger, if you believe in God and the Last Day. That is best, and a most excellent determination (Surat An-Nisa).
The lecturer started by saying that the theme touches on the authority of reference which is used by some people as a source of citation in addition to original sources which are the Quran and the Sunnah of the Prophet (pbuh), adding that this issue is related to the reference in deeds and sayings and not to the noteworthy work done by the ancestors in terms of jurisprudence in explanation, interpretation, categorization and conclusion.
He stated that the Ummah referred for a long time to fixed scientific sources that played the role of the first legal constitution for understanding the Quran and the Sunnah. These sources were based on a thorough reading of Quranic verses and Sunnah texts, Arabic language rules, and methods of inference by ancestors and prominent religious scholars.
The lecturer explained that the agreed upon sources of jurisprudence, resorted to in cases of dispute or difference, are four: the Quran, the Sunnah, the consensus and the analogy.
The lecturer wondered: is every understanding and jurisprudence related to the era of ancestors can be used as a proof in Islam? Is an accomplished scholar compelled to comply with the interpretation of ancestors who were responding to a different reality and data? should not he rather use the jurisprudence tools he has to deduce decisions concurring with his reality?
In this context, the lecturer said that jurisprudence is based on three pillars: knowledge of the text, knowledge of reality and the application of the text to reality, wondering about the second and third pillars for those who restraint the interpretation of texts to the understanding of ancestors.
Anyone dissecting the concept of "the ancestors' interpretation" would find that he is dealing with a slogan that mixes religious ideas with politics. While the reference to ancestors should unify the Ummah regardless of its movements or doctrines, it has become a factor of separation, and even a weapon to spread heresy, he said.
The lecturer underlined that the Ashaarit doctrine, the Maliki rite and the method of Imam Al Junayd protected the Kingdom against extremist ideas that tarnished the image of Sharia (Islamic law).
At the end of the lecture, HM the King was greeted by several foreign religious figures.