Fourth Annual Ordinary session of the Higher Council of the Mohammed VI Foundation of African Oulema – Press release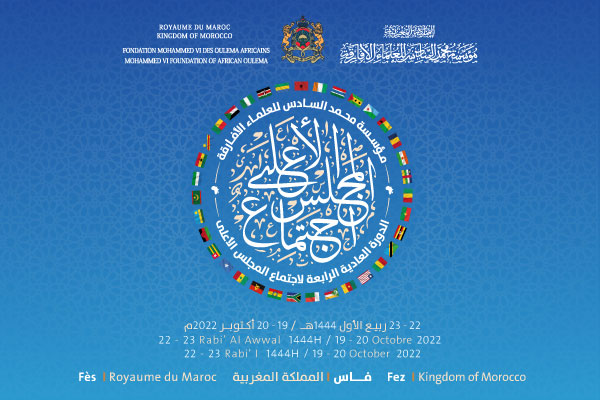 In keeping with its founding Dahir, the Mohammed VI Foundation of African Oulema is holding, in Fez, the fourth annual ordinary session of the Foundation's Higher Council, on Wednesday and Thursday 22-23 Rabi' al-Awwal 1444H, corresponding to 19-20 October 2022.
Attending this session will be members of the Foundation's Higher Council, namely Oulema representing the Foundation's 34 sections in African countries. The number of participating members stands at 250, including 50 women Oulema.
The convening of this session falls within the framework of the ongoing implementation of the provisions of Article 4 of the founding Dahir, which stipulates the following:
Unify and coordinate the efforts Muslim Oulema, in Morocco and in other African States, to make known the values of a tolerant Islam, to disseminate them and to reinforce them;
Take every initiative that allows the integration of religious values of tolerance in every reform on which depends the development process in Africa, be it at the level of the continent or at that of each country;
Liven up the intellectual, scientific and cultural action related to the Muslim religion;
Consolidate historical relations between Morocco and the other African States, and foster their development;
Work towards the revitalization of the common Islamic cultural heritage, make it known and ensure its dissemination, preservation and protection.
During this session, the Foundation's General Secretariat will also introduce the official reports on the Foundation's activities for the years 2019, 2020 and 2021. Similarly, the projects and activities planned for the year 2023 will be presented, discussed, and adopted at the level of the following four Standing Committees:
The Committee on Scientific and Cultural Activities;
The Committee on Sharia Studies;
The Committee for the Revival of the African Islamic Heritage;
The Committee on Communication, Cooperation and Partnerships.
Two academic workshops will be held on the sidelines of the work of the four Standing Committees, with the participation of male and female Oulema, members of the Foundation's sections. The theme of the two academic workshops are as follows: "Workshop on the African Oulema Charter Project" and "Workshop on the African Oulema Journal".
At the end of this session, the final communiqué will be presented to the meeting of the Foundation's Higher Council, together with the recommendations of the four Standing Committees.
The Foundation has sections in the following African countries: Niger, Kenya, Somalia, Burkina Faso, Chad, Comoros, Benin, the Gambia, Mali, Mauritania, Djibouti, Angola, Central Africa Republic, Gabon, Ethiopia, Sierra Leone, Madagascar, Guinea-Bissau, Nigeria, Rwanda, South Africa, Senegal, Côte d'Ivoire, Cameroon, Democratic Republic of the Congo, Togo, Sao Tome, Liberia, Ghana, Guinea Conakry, Tanzania, Sudan, Uganda, and Malawi.