Allocution of Doctor Rabiatu Armah, During the Inauguration of the Mohammed VI Foundation of African Oulema Section in Ghana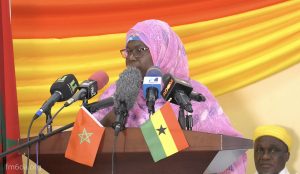 Doctor Rabiatu Armah started his speech by expressing her gratitude to participate in this conference and welcomed all the participants. Then, she introduced some principles of Islam most notably peace. Doctor Armah mentioned that Islam is about taking actions and that peace is earned by practicing it. Equality is another principal of Islam. Tolerance is another principle of Islam which is the key of coexistence between religions and cultures. Islam called on the social interaction between Muslims, Christians and Jews. She also reminded about moderation in Islam and its importance by following the example of the Prophet.
Furthermore, several African Oulema have contributed to the development of the country due to the Islamic values of peace, tolerance and leadership which have contributed to a measurable and sustainable development of the Ghanaian community.
Last but not least, Doctor Rabiatu Armah stated the aims and objectives of the Mohammed VI Foundation of African Oulema most notably promoting the Malikite and Asha'arite fundamentals. She wished that the section of the foundation in Ghana is going to have a positive impact on the country and especially on Ghanaian youth who are facing poverty, unemployment and inequality.
To sum up, Doctor Armah expressed her thanks to the Foundation and all the participants in the event and she invited the section of the Mohammed VI Foundation of African Oulema in Ghana to implement some strategies to empower youth in the country.