Address by the hon. Minister, FCT, MALAM MUHAMMAD MUSA BELLO at the opening ceremony of The International Symposium On African Islamic Heritage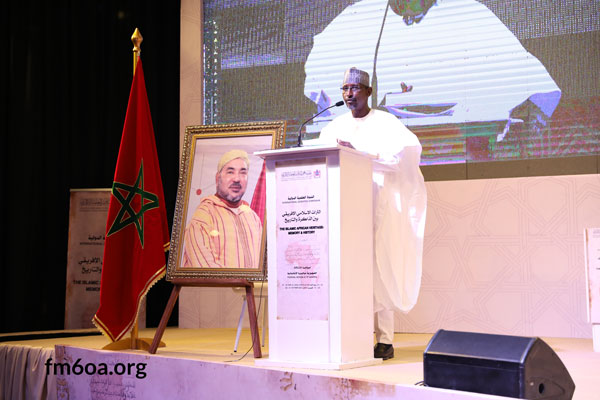 The speech was given at the international scientific symposium organized by the Mohammed VI Foundation of African Oulema on the theme of " The African Islamic Heritage: Memory and History" on 22-23-24 Rabi' al-Awwal 1443 H, corresponding to 29-30-31 October 2021 in the Nigerian capital Abuja.
(Protocol)
On behalf of President of the Federal Government of Nigeria, President Muhammadu Buhari, the FCT Administration and the entire residents of the Federal Capital Territory, I bring you warm felicitations at this historic occasion of the International Symposium on African lslamic Heritage; "Between History and Memory" taking place here in Abuja, the capital city of Nigeria.
I wish to begin by welcoming to our city all our distinguished guests from across Nigeria and indeed the African continent and also express our profound appreciation to the Nigerian Branch of the Mohammed VI Foundation for African Oulema for the choice of Abuja as the host city of this symposium which I am informed is the first in Africa.
The King of Morocco visited Abuja in December of 2016 and 1 had the honor of receiving him at the airport and also presented to him, the key to the city of Abuja.
This occasion will further cement the very cordial economic, social and cultural relationship between the two sister countries.
As we strive hard to make Abuja the hub of conference tourism in Africa, the presence here of Islamic Scholars and intellectuals from 34 African countries for this event, truly gladdens us and will spur us to work even harder to realize our objectives in this direction.
The tremendous efforts of the Mohammed VI Foundation for African Oulema in the preservation of centuries of the works of lslamic scholars in the fields of Jurisprudence, Astroloqy, Physics, Mathematics, History, Psychology and Human Sciences are well documented and globally recognized.
lt is in furtherance of the Foundation's works in this regard that this symposium ls organized and we are proud to be associated with it.
lt is our expectation that learning with the benefit of history, scholars and intellectuals here gathered will find lasting solutions to the persisting African political, socio-economic and peaceful co-existing challenges.
I have no doubt that with the scholarly and intellectual antecedents of all gathered here, lasting solutions will be proffered and we look forward to benefitting from them.
ln closing, I wish to use this opportunity to request you to continue to pray for Nigeria, its leaders, its scholars and all the people, for peace, security and prosperity, in Nigeria, Morocco and all members of the ummah.
I once more welcome you all to Abuja and wish you all a productive gathering.
Thank you for your valued attention and may Almighty Allah bless us all our aspirations.