Al Quaraouyine University
Al Quaraouyine University, chaired by Mr. Amal Jellal, remains under its institutive law, erected as a public institution with legal personality and financial autonomy, charged with the task of higher education and scientific research in the areas of sciences of Shari'a and Islamic studies, thought and civilization. The registered office of the University's Presidency is located in Fez.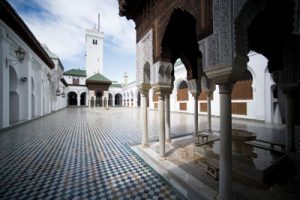 Al Quaraouyine University's missions are as follows:
Training of Oulema and religious scholars of Shari'a, Quranic and Islamic studies.
Training of imams and preachers by providing them with an in-depth qualification, and enabling them to acquire the methods and knowledge necessary to appropriately carry out their religious missions;
Establishing special programs of training, qualification in the field of religious guidance and ensure their implementation;
Developing scientific research in the areas of Quranic studies, Hadith, dogma, fiqh and issues of contemporary Islamic thought as well as contribution to the development and encouragement of the practice of this research;
Raising awareness of Islamic sciences and their history by working towards the publication of the studies, research and sources that are related;
Consolidiating  the history of Morocco, his archives and his documentary background as well as the implementation of the studies and research that are related;
Promoting the heritage of the Islamic fiqh, and especially the malekite, paying particular attention to its sources and working for its dissemination;
Carrying out of studies, research and expertise in the field of its competence;
establishing relations of scientific cooperation with public or private, national or foreign universities, institutions and scientific organizations, pursuing the same objectives.
The institutions under Al Quaraouyine University
Al Quaraouyine University includes the following institutes and establishments:
Dar Hadith El Hassania Institute;
Mohammed VI Institute of Quranic Readings and Studies;
Mohammed VI Institute for Training of Imams Morchidines and Morchidates;
Royal Institute for Research on the History of Morocco;
Quaraouyine Mosque for Senior Class Traditional Teaching;
School of Islamic Studies;
Islamic Civilization and Thought Institute.
Dahir of Reorganization
Dahir No 1.15.71 (24 June 2015) establishing the reorganization of Al Quaraouyine University.
Contact Details of Al Quaraouyine University
Address:  Abi Al Hassan Al Marini Avenue, Qasbat Chrarda. P.O. Box: 2509 in Fez
Téléphone : 05.35.75.36.00
Fax : 05.35.70.26.67
Website of the University:  http://uaq.ma/