The Reference of Imarat Al Mouminine as a Scientific and Spiritual Renaissance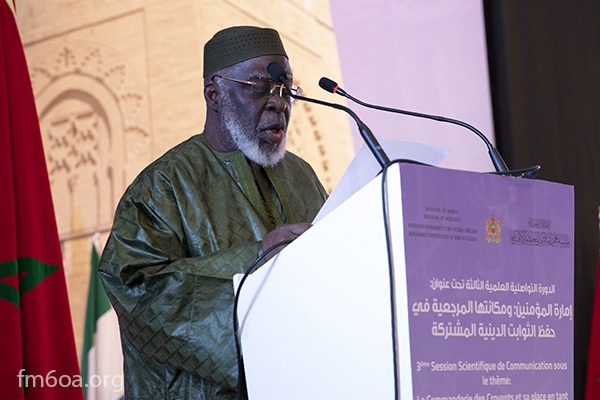 During the third scientific communication session organized by the Mohammed VI Foundation of African Oulema under the title: The Commandery of the faithful and its place as a referential in the preservation  of common religious constants , His Eminence Sheikh Boakary Fofana, Head of the Supreme Council of Imams and President of the section of the Mohammed VI Foundation of African Oulema in the Republic of Côte d'Ivoire, on behalf of African Oulema ,praised the efforts exerted by HM the king, Amir Al Mouminine in the preservation and maintenance of common religious constants.
Mr. Fofana added that the evocation and inspiration of the place of Imarat Al Mouminine is a noble message and responsibility of Oulema toward Ummah, adding that it is necessary to take care of religious field with all means of care and to preserve common religious fundamentals.
Mr. Boakary noted the initiatives of Amir Al Mouminine to unify and coordinate the efforts of Muslim Oulema throughout the African continent, to promote the values ​​of Islam of tolerance, moderation, peace, security, stability and development throughout the continent.
Sheikh Boakary Fofana considered this communication session a fruit of the initiatives of Imarat Al Mouminine, which seeks to achieve openness, moderation, tolerance and dialogue, and establishes the rules of understanding between human cultures and civilizations. He praised the keenness of Amir Al Mouminine to bring the interests of the nation and protect its sanctities and collect its necessities in preserving its religion and security.
Mr. Fofana reiterated that the Mohammed VI Foundation of African Oulema has been keen on linking ties, consolidating relations and consolidating capacities in the service of religious and developmental affairs in Africa. He praised the invitation of His Majesty the King Mohammed VI to strengthen bridges of cooperation and strengthen ties among the continent's Oulema in order to promote their religious mission, to diffuse the values ​​of tolerant Islam, and to consolidate the established common constants that seek to promote a spirit of tolerance, moderation and peace.